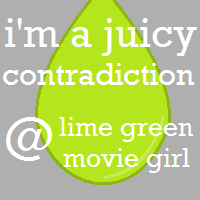 One of my lovers
{above}
asked her readers to spill about their
juicy
contradictions.
By the way, its really hard to come up with contradictory things about yourself when you're used to those contradictions being you.
However, I've managed to come up with a few.
i am a
musician
athlete
. Somehow i stay dedicated to both.
speaking of being a musician, how contradictory is it that i hardly ever listen to music casually.
(that does not include this summer. because i have so much time on my hands while i work and when i run.)
i like apple juice, apple sauce, dried apples, apple flavored gummies, etc... but i am not a fan of just plain apples. boring & not that great.
I love organization. Lists, piles, etc. BUT my house is seldom picked up. whoops.
Performing in front of 1000 people is way less scary than 5 people. at least, to me...
check out
limegreenmoviegirl
to share your contradictions and read others!